A little while ago I posted about the various building projects we've completed at the Ueda Sōko Ryū Melbourne. And one biggy, the grand daddy of them all, starting to gather momentum.
This project is building a tea house, or 'chashitsu'.
I'd always had the vision of making a raised floor so that we could use a proper sunken hearth in the winter months.
A sunken hearth is a charcoal fire in the floor just like in the photo below. For half the year the sunken hearth is used, and for the other half a brazier that sits on top of the tatami is used.
When the Ueda Sōko Ryū Melbourne went to the
Tea and Zen
exhibition at the National Gallery of Victoria (NGV), one of my students who is a retired architect got inspired by the tea house on display. It was one designed by Uchida Shigeru in 2002.
Bottom right is a photo of Fukuma-shihandai, one of the right hand men of the 16th Grandmaster of the Ueda Sōko Ryū using the same design of tea house during an event in Japan.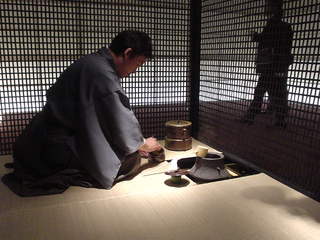 I shared my dream to raise the floor somehow or other so we can practice the full rage of ceremonies according to the time of year, and Paul questioned why not go further and just build the whole kit and caboodle.
Plans were drawn and now we're well into the initial stage of erecting the frame of the tea house. The tea house will be 4.5 tatami mats in size and will fit inside your average-sized bedroom in Melbourne's rental accommodation wonderland. So should the time to move come, the tea house can follow with ease.
Here's Dad finishing off the skeleton of the tea house before the first trial this week erecting inside the actual room.
I'll let you know how the first trial goes. Wish us luck!